This expedition is into the secluded upper Mustang Region, nestled within the rain shadow of the highest mountain range in the world – the Himalayas. Only recently opened to foreigners and protected by a restrictive access permit, this isolated region is the best-preserved remnant of Tibet.
Access to this region is not cheap, not easy, and (at times) not comfortable. However, the scenery at over 12000′, the undisturbed culture, and the feeling of total isolation are completely worth the effort and sacrifice. Visit Lo-Manthang, the forbidden city and the last piece of authentic Tibetan life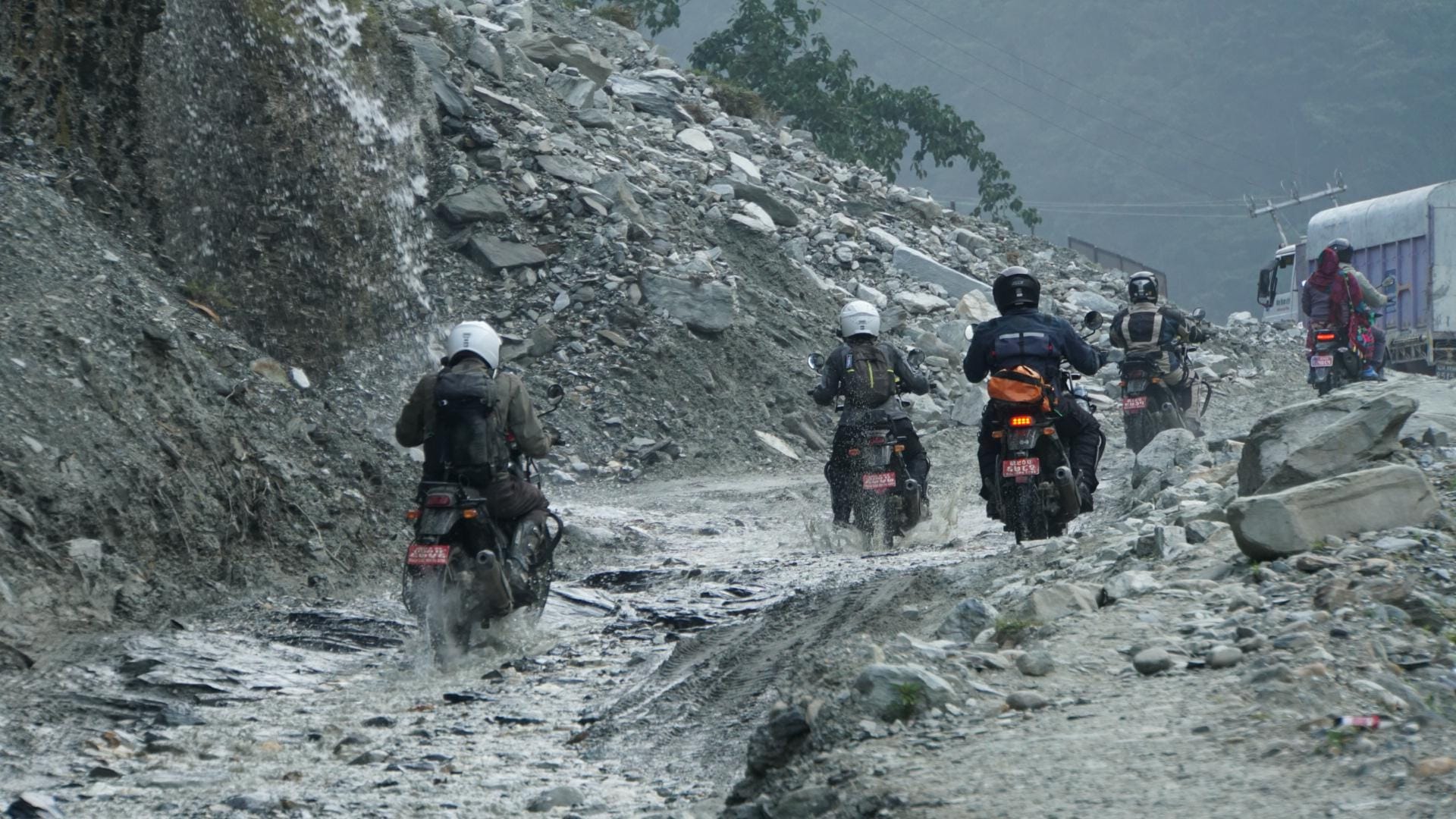 WHAT IS INCLUDED IN THE PRICE?
WHAT IS NOT INCLUDED IN THE PRICE?
WHAT WILL THE ACCOMMODATIONS BE LIKE?
This is not a traditional vacation tour; this is a true expedition. We will be staying at quality hotels when we arrive and depart but if we stay at any lodging other than our camp, the accommodations will likely not be similar to normal western amenities.
Comfort is important to keep us rested and sharp as riders, so our hotel in Kathmandu will offer luxurious accommodations with superb
service.  We will be traveling through remote parts of Nepal which do not have hotels or restaurants.  This is why we will spend most nights in a fully-supported expedition-grade camps. Our camp will offer rustic toilets, a shower tent, a place to eat, and expedition grade tents to protect you from the elements. If we find ourselves staying in lodging outside Kathmandu, it will be basic but clean, so you will have the experience of staying in the kind of accommodations locals use.
Our world-class support staff creates a comfortable camping experience complete with table linens and warm tea delivered to your Big Agnes tent each morning.
You will have your own hotel room (if available) and will stay in your own 3-person size Big Agnes tent.  Couples may elect to room/tent together or separately.
Not without special permission.  The bikes available in Nepal have limited suspension and horsepower. This combined with the rough condition of the roads and often high altitudes make travel with a passenger slow and tedious. Although we travel at lower speeds, a passenger adds an additional challenge.
If you believe you are an expert rider with a passenger in riding conditions up to class 3 unpaved roads and you want to bring a passenger, then you will need schedule a time to talk with Bret directly and get special permission before being accepted onto the expedition.
WHAT KIND OF FOOD WILL I EAT?
Our cook crew will make delicious Nepali meals for breakfast, lunch, and dinner. Our cooking crew will also take into account any dietary restrictions or allergies to the best of their ability.  Ganga, our head cook, has worked for decades cooking for high-altitude expeditions so he and his team comfortably adhere to Western hygiene and food handling standards.  Each meal will include a protein, starch, and vegetable.  You will not go hungry!
You will see this on your packing list but to reduce plastic waste, please bring a re-useable contained (Nalgene, Hydro flask, etc.) as filtered drinking water is available.
HOW MANY MILES PER DAY WILL I RIDE?
This question is unanswerable.  You are not signing up for a tour where our start/end points are predictable – you are signing up for an expedition.  A tour takes you point to point whereas an expedition points in a direction and flows with the changes that unfold as we travel. Weather, mechanical challenges, stopping to visit with locals, riders' abilities, illness and a desire to stay an extra day somewhere all make it impossible to set a mileage goal. What we will do is work to limit riding days from five to eight hours total per day, regardless of distance.
There are short days where we will ride up to 100 miles.  We will have long days where we will only accomplish 20 miles.  It all depends on which roads are open, which roads have unexpectedly closed, what kind of bike issues we're having (after all, we're using rented motorcycles), the quality of the roads, and how people are feeling.  Some people are more affected by altitude than others; some people are more affected by heat/cold than others.
We are traveling as a group and we will make group decisions.  This is not a tour where you will be told where to go and what to do.  You will have input on what YOU would like to see and/or do.  You might end up where you expect, or you might end up somewhere else.  This is an adventure and an adventurous attitude makes all the difference.
DO I NEED A SPECIAL DRIVERS LICENSE TO RIDE?
Although Nepali regulations state that all riders need a Nepali motorcycle license, it's unrealistic for foreigners to get one for this trip.  You will need to purchase an international driver's license in your home country before the expedition starts.
WILL I NEED TO PURCHASE MOTORCYCLE RENTERS INSURANCE?
You will not be renting the motorcycle directly that you will be riding.  Our guide, Vishu, will be renting them under his name.  After the trip, Vishu will calculate any damage that happened while it was assigned to you and provide you with the repair cost. Although these costs are normally small ($0-$200) we want to take care of them as if they were yours.
WHAT WILL THE RIDING CONDITIONS BE LIKE?
Nepal roads are partially paved, partially graveled, and partially potholed.  A pleasant road of rock and dirt may be interrupted unexpectedly by a smooth road before returning to dirt and a stream crossing.  Technically we do not ride "off-road" in Nepal; we will be traveling routes that local traffic – including buses – use.  In Nepal, they don't use the phrase "off-road" … they just say "road".
If you are traveling to the Mustang region, the road in the remote region is new, so it is a gloriously wide graveled (and in places paved) road with no potholes.  The road to get there tackles a few challenging sections, but nothing that an intermediate – or ambitious novice – can't handle.  Be prepared for more dirt than pavement, and revel in the adventure of riding the path less traveled.
Given the rough conditions, we try to keep our mileage and ride times to a minimum. We should never exceed six hours in the saddle and will start our days early to ensure road closures and unforeseen circumstances don't prolong the day. This is an active adventure and requires a moderate level of fitness for everyone's safety.
WHAT RIDING SKILLS ARE REQUIRED?
A rider with intermediate skills – or an ambitious novice who is anxious to learn – generally does very well. The terrain will normally range from level 1 to level 3 (ADV Skill Rating System)
All riders are required to have at least one year of licensed motorcycle riding experience and be comfortable with gravel road riding.
It is also strongly recommended that you get in shape. Even though we try to control how many hours you will ride each day, the level of attention needed to manage traffic and roads will add to your fatigue level. We may also be traveling at altitudes higher than you are accustomed to.
Surface conditions will be approximately 40% gravel, 35% paved, and 25% rock/dirt.
TELL ME ABOUT TRAVEL LOGISTICS
Visas to enter Nepal may be purchased beforehand at a local consulate or you can purchase yours at the airport on arrival.  30-day visas cost $50 USD (as of this writing).
Before any international trip, you should schedule an appointment with a travel doctor to receive any required vaccinations before travel. Based on your country, age, health, gender, etc. this may vary from rider to rider.
The realities of current international travel dictate that we now require a COVID vaccine. This is to protect you from becoming stranded during travel due to changing regulations or an interruption to the group's travel due to sudden travel restrictions.
If you decide to travel to Nepal before the official arrival day, we can provide you some guidance with regard to transportation and lodging. We have one full rest day built into our schedule for adjusting to the time change and our first riding day will be a light travel day, knowing many of you will have come from 6-12 times zones away.
DO I HAVE TO CARRY MY OWN GEAR OR TOOLS?
No.  We will have a motorcycle-mounted mechanic (Raj) as a sweep rider.  He is an accomplished mechanic who can quickly and easily fix almost anything we might need on the trail.
Your gear (limited to 110 liters per person) will be carried in the large support truck or on top of the Land Rover, which accompanies us throughout the trip.  We recommend you carry a small duffle bag, a small tail bag, or a backpack for daily essentials such as sunglasses, camera(s), medication, lunch, and gear for weather changes.  Your primary job is to is focus on your riding, enjoy the scenery and take lots of photos.
WHO WILL I BE TRAVELING WITH?
You will be riding and traveling each day with Vishu Sijali, a Nepali native and guide, will also be traveling with you.  He is in charge of the route and logistics and does the hard work of finding ways around closed roads and figuring out where to camp.  Our plans for the day are usually sidelined by bike trouble or road construction (Nepal is prone to many landslides due to its topography) and Vishu always has a solution.
There will also be a sweep rider and mechanic to make sure you're on the right path or to help you if you have bike trouble.  Your kitchen crew will also be following the group, and you will have the chance to spend time with those who have spent their whole lives in Nepal.
WILL I GET TO MEET LOCAL PEOPLE?
We are going to explore Nepal, so we highly encourage interaction with the local people. How much you choose to interact is completely up to you. We will stop in a town or village almost every day, whether it's to stock up on supplies or just to take a break.  The towns and villages we visit have often never seen a tourist or see them very seldom.  It is not uncommon that at some point, we will set a camp that will become an attraction for the entire village!  You will have ample opportunity to talk with locals and may possibly make new friends if you choose to.
Nepal is the friendliest and safest country. Nepal is the perfect country for anyone looking to step away from the westernized world to see other cultures. Not only are you likely to fall in love with Nepal, but this will become the benchmark for all other 3rd world countries you ever visit.