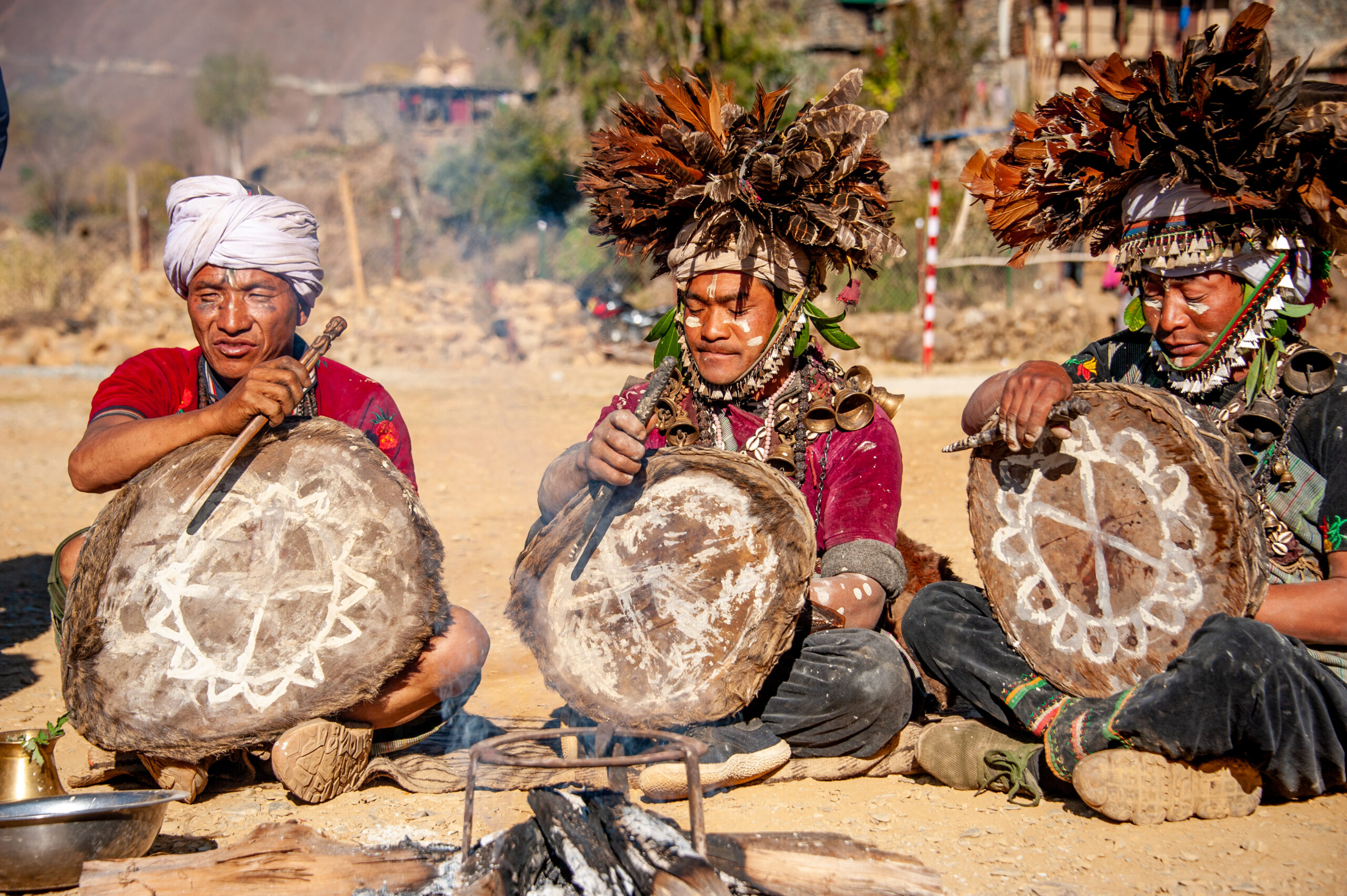 This expedition is focused on exploring the greater central Nepal region. Visit the birthplace of Buddha in Lumbini, and explore the lakeside adventure town of Pokhara and the ancient bazaars of Kathmandu.
The rest of the tour will be in nameless settlements nestled atop the hills and in valleys. You may camp on terraced rice paddies on thousand-foot cliffs or aside raging rivers. Search for the one-horned rhinoceros in Nepal's jungle region and exchange laughter with local women and children, who always come out to see the foreigners.
Included in the trip fare
| DAY | PLACE |
| --- | --- |
| DAY-01 | KATHMANDU |
| DAY-02 | FLY TO Chitwan |
| DAY-03 | Chitwan-Palpa |
| DAY-04 | Dang-Rolpa |
| DAY-05 | Rukum -sera |
| DAY-05 | Sera-Excursion Day |
| DAY-06 | Baglung |
| DAY-07 | LETE |
| DAY-08 | Mustang-EXCURSION DAY |
| DAY-09 | Mustang-EXCURSION DAY |
| DAY-10 | Parbat |
| DAY-11 | syangja |
| DAY-12 | POKHARA |
| DAY-13 | Kathmandu |
| DAY-14 | HOME |
WHAT IS INCLUDED IN THE PRICE?
Nepal's roadways are notoriously bad, and that is oddly enough, part of their charm. A typical Altitude Riders route traverses everything from good blacktop highways to rutted and muddy back roads. That is what makes each ride so exciting. 
We recommend each guest has prior experience in challenging conditions. The ability to comfortably ride on mixed surfaces is important. An awareness of dynamic traffic patterns will make your ride all the more enjoyable, safe, and rewarding. Due to the conditions, we try to keep our driving times under six hours a day. It's good to be fit as the days of driving and attention to detail needed can be both mentally and physically tiring. You can expect, roughly 40% gravel, 35% paved, and 25% dirt roads. Note: You are required to have one year of licensed motorcycle riding experience and you must be comfortable on gravel roads. An intermediate rider or an ambitious novice should be able to handle this ride.
The rules of driving in Nepal are mostly unwritten and locals are more likely to follow their intuition than rules. Major cities in Nepal have a few stop lights and traffic police at busy intersections to keep things flowing smoothly. Outside of those specific areas, you won't see a traffic light or stop sign. Therefore, you need to understand the flow of traffic and go with your gut.
Some of the routes we drive are considered "highways." Although they may still be dirt roads, these are the routes used by buses and trucks. Nepal has many windy roads that traverse hills and mountains. In the west, it would be uncommon to pass someone on these blind turns, but in Nepal, it is very common. You simply honk politely when you want to pass, and the driver ahead of you should use their turn signal to let you know the coast is clear. Luckily, most of the roads we ride on don't see as much traffic. You might find yourself riding for long periods of time while seeing a few other vehicles. When we do enter the busier areas, it's important to stay alert.
The iconic Royal Enfield Classic is a crowd favorite and one that's most preferred in our expeditions. It sports the classic design and gives your ride the vintage feel that you are going for with modern technology. 
Perfect for off-road and long touring, these motorcycles were built with touring in mind. They can withstand long distances of riding without providing discomfort to the rider. The Himalayan features an upright seating position, with a seat height of 800mm. 
We often reach destinations without roads, that's where our enduro bikes come in handy. Ride up to the Himalayas in speed and sound as you make your own trail.
In Kathmandu, we'll be staying in nice hotels, however, on the road it will be expedition life. We will set up expedition-grade camps along the way which offer rustic toilets, a shower tent, a dining tent, and individual sleeping tents. Our staff will try their best to create a comfortable home for us on the road.
There will be no modern amenities, and participants must be prepared. We will be spending time in the mountainous regions where the temperatures drop when the sun goes down. Many nights will be spent in expedition-grade tents with no electricity, no cell service, and no heating or air conditioning. Batteries will likely be unavailable for purchase along the trip, and cold nights will certainly drain any item needing charging. In areas where accommodations are available, we may stay in teahouses which are simple Nepali-style hotels. The rooms are basic but clean, and they often have a shared space for dining as well as a shared rustic toilet.
On the road, our support staff includes a head chef, cook, and kitchen helper. Our head chef has cooked for many mountaineering expeditions and is well acquainted with Western food preferences as well as good hygiene and correct food handling. Our staff will do their best to meet any dietary restrictions you have. Please advise our staff of any dietary restrictions prior to the trip so that they can plan accordingly. In major cities such as Pokhara and Kathmandu, the food scene is surprisingly vast. There is an array of cuisine available including Italian, Mexican, Thai, Japanese, Vietnamese, Korean, Indian and Continental. You'll also find a variety of bakeries and cafes.
Our tours will take you all over Nepal. You will not only visit the popular tourist destinations but will go deeper into the mountainous nation. Our tours focus on the western reaches of Nepal such as Mustang and the Karnali Region. They are pristine and undeveloped. You will get to experience the raw adventure of riding through places that have rarely been set foot by outsiders.
We will pass through and stay in local villages throughout the trip, so there will be plenty of opportunities to interact with locals. Some of the areas we pass through see very few tourists and the locals will likely be as interested in you as you are in them. In some places, our camp site might cause enough excitement that the whole village will stop by to see what's going on. Nepali people are mostly Hindu or Buddhist. During the trip, we will pass by many temples, stupas, and monasteries where you can experience the local culture. If you're traveling during a festival, you may get to experience unique dances, special feasts, and cultural traditions. Nepali people are extremely welcoming to foreigners and are all too happy to share their traditions and culture. They've often been described as "the nicest people in the world" and are usually one of the main reasons people love Nepal so much.
Nepali people are very tolerant and understanding, therefore, they won't likely be offended if a foreigner does not know their way of doing things. However, if you'd like to learn some etiquette before arriving, these items can be helpful… People greet each other with prayer hands while saying "Namaste." It's considered respectful to hand things with your right hand, especially money. Feet are considered dirty, and touching someone with your feet, pointing your feet at someone, or stepping over someone is considered rude. Touching someone else's head is also considered impolite.
If you are eating at a local's house, it is impolite to waste food, so only take what you know you will eat. It's also polite to take seconds. At religious sites, you may need to remove your shoes. You should be dressed modestly (woman should not show their legs above the knee or their shoulders).
Nepal has many different topographies from flatlands to the highest peaks in the world. Because of this, it can be beautiful and warm in one area and snow in another. October to November and March to April are peak travel seasons in Nepal because they often have the best weather with little rain or snow and moderate temperatures. That being said, good weather is never guaranteed and you should be prepared for anything. Packing layered clothing and rain gear is important. The temperature often drops when the sun goes down and our camps do not have heat, so having warm clothes for the evenings is a must. May to September is the monsoon season. During this time, the roads can flood and mudslides can occur. December to February is winter when temperatures drop. Although it's cold, travel is still an option, but you should expect freezing temperatures at altitude.
In major cities, there are ATMs and Money Exchange counters. If you plan to exchange money, be sure to have a major currency (like USD, EUR, LB, AUD, etc.). Bills should be new and crisp. Torn or damaged bills will not be accepted anywhere in Nepal. If you plan to use an ATM, please call your bank in advance to ensure that there won't be an issue. Credit and debit cards are only accepted at large hotels in major cities and select restaurants. The majority of places only accept cash.
Flights in Nepal are often part of the adventure. Depending on weather conditions, flights can be delayed for hours or even days. Flights to airports like Tenzing-Hillary Airport (Lukla) are dangerous if the conditions aren't right, and the window to fly in may only be an hour each day. During peak season (October to November and March to April), we are less likely to experience delays, but this is all part of the journey and a bit of patience is needed when traveling in Nepal. Flights to larger airports like Pokhara may be delayed, but not as often as the airports in the mountains. If a flight is delayed, we will do our best to make up time on the road.