Tibet Motorcycle Tour (Everest Base Camp)

Tibet, a country often talked about with an air of mystery and the curiosity of an unexplored Shangri-la. From the vast Himalayas to the unique culture, "the roof of the world" often sneaks its way into the dreams of travelers looking for an adventure few others ever get to experience.
Riding through Tibet on a Royal Enfield motorcycle is an adventure for the senses. The extreme riding conditions combined with the unique culture and religion create an experience unlike any other.
Connect with the Tibetan Buddhist people who are a beautiful mix of compassion and resilience. Drive past holy lakes, over towering mountains, and through high-altitude deserts. See lush forests, vast grasslands, and snow-capped peaks. Spend time in the ancient cities of Kathmandu and Lhasa where heritage and tradition are weaved through the streets. All leading up to the moment you see the awe-inspiring Mount Everest for the first time.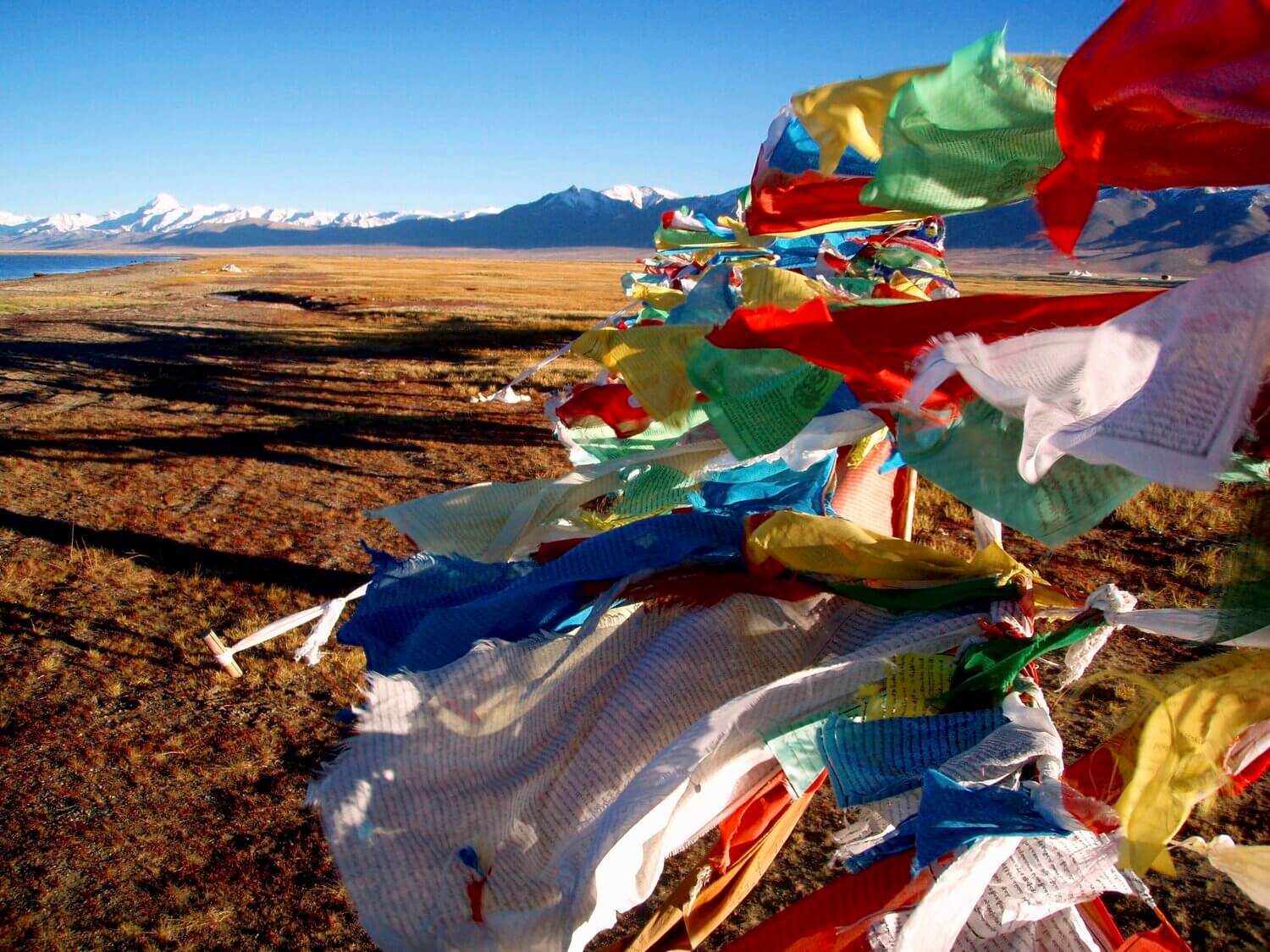 Just because you're joining a motorcycle tour doesn't mean that you won't get to experience other activities like rafting, trekking and safaris. Our tours are flexible and can be modified according to your interests. We will follow a basic itinerary but we encourage you to take your time and explore the unique landscapes of Nepal.
You can customize your trips to explore Nepal the way you want. Chat with us and let us share ideas to help you create an itinerary that's perfect for you!
DAY 1 - ARRIVE IN KATHMANDU
Welcome to the hustling and bustling city of Kathmandu! Today, you have time to get settled in, sleep off jet lag, or explore the city on your own. In the evening, we'll get together to go over our route and itinerary with your guides.
DAY 2 - SIGHTSEEING IN KATHMANDU
Enjoy a day of sightseeing in Kathmandu which is home to seven UNESCO World Heritage Sites. We'll go on a tour of the capital cities highlights which are rich in culture and tradition. See peaceful Buddhist stupas and Hindu temples with incredibly detailed wood carvings. Experience the thrill of crossing the street and the calm of meditating monks. Kathmandu is a city of juxtapositions making it an intriguing place to explore.
DAY 3 - WARM UP RIDE (70KM)
We want you to have time to adjust to the traffic patterns, road conditions, and of course, your bike. Today, we'll take a warm up ride to allow you to get into the flow. We'll ride along the road to Nagarkot which offers winding turns and beautiful scenery. If we're lucky, we'll even get our first glimpse of the Himalaya if the weather is clear.
DAY 4 - KATHMANDU TO SYARUBESI – (130KM)
Today, we start our journey to Tibet. We'll be riding the highway towards Langtang National Park. Don't let the word "highway" fool you. Some of the road will be paved, while some will be bumpy dirt patches. The road is narrow at points and cuts around the mountain making it a challenging and adventurous ride.
DAY 5 - SYABRUBESI TO NEW TINGRI (367KM)
This will be one of our longest days of riding. We'll start early so that we can arrive before the sun sets. The route today includes some incredible views including Everest on a clear day! We'll go over our first high pass, and then we'll continue to drive along a gorgeous valley. Finally, we'll descend into New Tingri before it gets dark.
DAY 6 - NEW TINGRI TO XIGAZE (230KM)
The road to Xigaze is in good condition making it an enjoyable ride where you can pick up some speed. We'll pass Tibetan villages with the gorgeous Himalaya serving as their backdrop. This journey often feels like you are cruising through time and have somehow landed in the past. Much of the route will be open road, but entering the city of Xigaze will bring us back to civilization.
DAY 7 - XIGAZE TO LHASA (270KM)
The route to Lhasa is straight forward which creates a laid-back day of riding for us. We can take our time leaving in the morning and still arrive with time to explore the ancient city of Lhasa in the evening. We'll drive along the winding Yarlung Zangbo River on the way. The river turns a gorgeous turquoise during certain times of the year making it an eye-catching sight.
DAY 8 - LHASA (REST DAY IN LHASA)
Today, we'll visit the famous Potala Palace which has over 1,000 rooms and was the winter home to 14 Dalai Lamas! Lhasa is one of the highest cities in the world and prior to 1980, few foreigners ever visited. You'll get a chance to walk around and explore the ancient city while trying some of the Tibetan delicacies. Enjoy the local monasteries, shopping areas, and restaurants.
DAY 9 - LHASA TO XIGAZE VIA YAMDROK LAKE (360KM)
The road to Xigaze will spoil you with epic views. We'll pass Yamdrok Lake which is named after its brilliant turquoise color. This is one of the three largest holy lakes in Tibet. We'll also be going over two high passes over 5,000m in altitude. You'll drive past prayer flags and snow-capped peaks so close you'll want to reach out and touch them. 
DAY 10 - XIGAZE TO NEW TINGRI (237KM)
Today, we'll work our way up in altitude before dropping back down into New Tingri. Tomorrow will be a long day, so we'll get a good night rest and save our energy while preparing for tomorrows ride to Everest Base Camp!
DAY 11 - NEW TINGRI TO EVEREST BASE CAMP (107KM)
We start the day with a high pass and a series of hairpin turns. Then, we'll ride through a wide valley until we'll need to dismount. Only electric buses are allowed up to Everest Base Camp, so we'll hop on board and leave our bikes parked below. Once we arrive, you'll get to bask in the fact that you've arrived at the base of the top of the world! We'll spend the night here which allows you to sit back and relax while you watch the sunset over the Himalaya. Drink a traditional Tibetan butter tea knowing that this view is a once in a lifetime moment you'll never forget.
DAY 12 - EVEREST BASE CAMP TO GYIRONG (405KM)
We'll start the day early so that we get another majestic moment in the mountains. The breath-taking sunrise! After breakfast, we'll head back down to Gyirong where you can enjoy the mountain views from afar. This will be our last night staying in Tibet.
DAY 13 - GYIRONG TO KATHMANDU (164KM)
We'll ride out of Tibet and re-enter Nepal in the morning. We should arrive back in the city of Kathmandu early enough in the evening to allow some time to relax. Tonight, we'll have our farewell dinner where you can reminisce about the journey and spend one last night with your fellow travelers and guide.
DAY 14 - DEPART KATHMANDU
Motorcycle, Fuel & Spares 
Royal Enfield 410cc Himalayan.
Breakfast, lunch, dinner, snacks and beverages
Local and international guides
Support vehicle, crew and mechanic
Airport pick-up and drop-off
Tibet Visa & Entrance Fees
Tibet entry permits, all entrances to sites, national parks, tolls, etc.